Commercial
Snow Plowing
Our company has over 15 years of experience in commercial snow plowing services throughout Uxbridge, Northbridge, Whitinsville, Sutton, Douglas, Grafton, Upton, Franklin, Mendon, Hopedale, Bellingham, Millville, Blackstone, and Milford Massachusetts ( MA ) areas and have several teams of snow removal professionals on call 24/7.
Carlino Landscaping is committed to serving all of our commercial customers with the highest degree of integrity and professionalism, with the goal of maintaining site safety during winter weather events. Our mission is to provide timely, excellent service that ensures our customers the peace of mind during inclement weather. Our fleet of equipment includes: Plow trucks, skid steers, front end loaders, snow blowers, to include sand and salt trucks & calcium spreaders.
As a full service commercial snow plowing services company, we monitor the weather and contact our employees when a storm has been forecasted, which ensures that our teams of snow removal professionals will be ready to handle any pending snowstorm.
"Carlino Landscaping has been our landscaper/plow guy for over 10 years. At all times we have found that Tony and his crew to be hard working, reliable, and conscientious with our landscaping and plowing. Especially with the plowing of our driveway, as we have units on a hill and on a main street - it's not the easiest to plow. He is also very reasonable in pricing."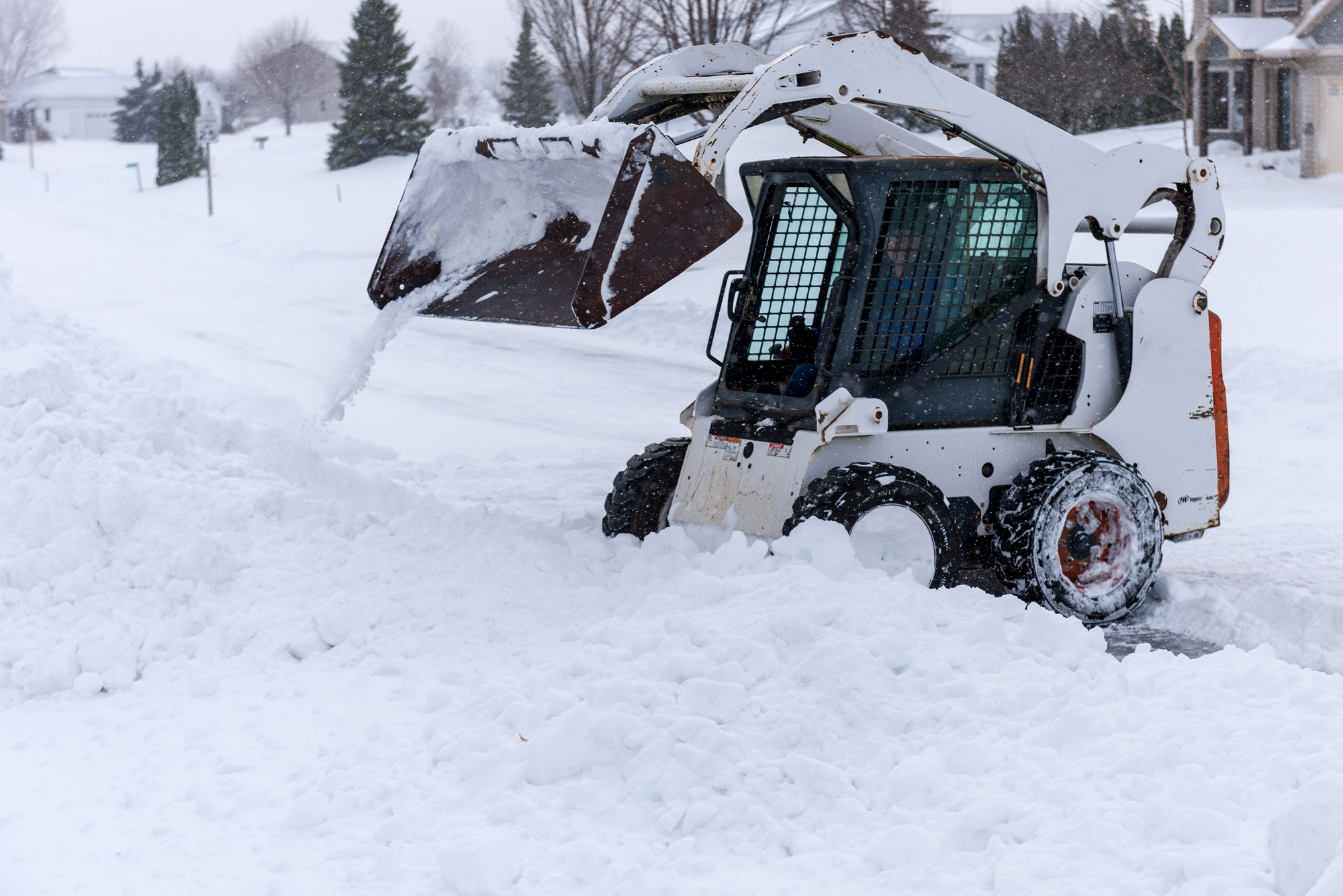 There are many methods of pricing our commercial snow plowing services:
---
Per push: charge each time a contractor comes out. (not recommended)
Per season, which is an all-inclusive
Per inch or increment means a different price for each increment, which are: 1-3, 3-6, 6-9, 9-12, 12+ (or 12-15 & 15+)
Per hour for heavy machinery
Or a customized service to your needs
Communication is key to our success
We believe that communication with our commercial snow plowing customers is one of the keys to our success, which allows us to perform the work our clients expect. We provide services with a team work ethic of good relationships between us and the customer.
We offer snow plowing, snow shoveling, snow blowing, sanding/salting , or straight salt, calcium chloride, snow removal, snow hauling, and loader work. Calcium is used for walkways and driveways and or around commercial building entranceways and parking lots. We have found that salt is not the best product when utilized around entranceways, because it will get on the floors or carpets of your business. Sand and Salt is much better utilized for the roadways and parking lots. Calcium on the other hand has proven to be a much safer and more effective way for treating icing around sensitive areas.
Our company offers much more than a commercial snow plowing services, we will reduce liability for our clients. We are fully insured with special snow liability insurance and have a snow response plan for commercial accounts. We are members of SIMA Snow & Ice Management Association.
---
Call Carlino Landscaping at 508-234-6227 or contact us for all of your commercial snow plowing service needs. We look forward to meeting with you and providing a free detailed estimate.